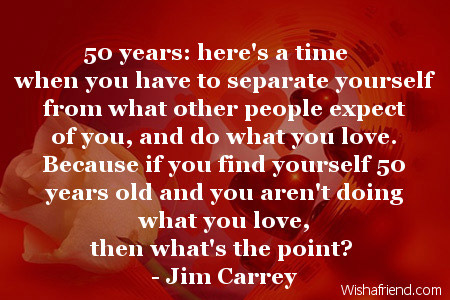 I live by Jim Carrey's words!! Sooooo true! I find as I get older that your mind really does shift from pleasing others to doing what's best for you! 
I don't know what people thought when I was born in 1969. It was a very different time in our history. Now as I look back on my 50 year history, It is remarkable that I am where I am today. I overcame many things. I worked hard. I have started over several times in life. I have survived. I have thrived. I've had amazing people in my life and not so great people in life as well, but each has taught me major life lessons.
Turning 50 makes me highly aware of my mortality. Chances are I have less years ahead of me than more years. I feel a sense of urgency to get all the things done that I want to do. But I also feel a sense of self care, more time for myself in the middle of all the things that I do. 
I am grateful to God that I have made it because there are many who don't and I plan to continue to try to affect change in the world!